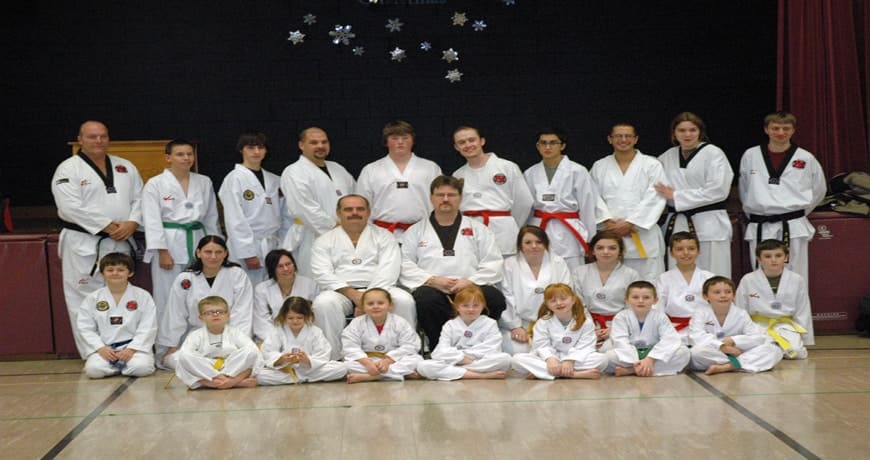 Ryoku Seikido, is a member school of the World Seikido Organization. Ryoku was formed by Master Dave Wilkins and his wife Lori in January 2005 under the previous name of Bonaventure Seikido.
Our Program ran for several years at area schools until it was renamed by the students as Ryoku Seikido. We were located at St Roberts Catholic Elementary School until St Roberts closing in the spring of 2018.
In September 2018 Ryoku relocated to St Pius X Catholic Elementary School Gym as the previous school closed.
As of September 2023 Ryoku once again was on the move, relocating to St Bernadette Catholic Elementary School Gym at 155 Tweedsmuir Ave in East London.
In partnership with The Canadian Alliance of Martial Arts Not for Profit, and our relationship with the London and Area District Catholic School Board, we are proud to be able to offer a low cost alternative to traditional Martial Arts and Self Defense training.
Master Wilkins along with Master Kristen Duever, Sensei's Neal Ruseff, Werner Duever, Darryl Van Soest & Nick Robbins bring with them well over 80 years of combined Martial Arts experience as well as a deep commitment to the East London Community.
What is SEIKIDO
SEIKIDO means vital force that enlivens the universe. The Art of Seikido is a relatively new martial art.
Its in it's 35th year being originally founded by Grand Master Zeke Petkovic in October 1987.
It was founded mainly upon Tae Kwon Do and Aikido techniques. Both of which have their origins in older martial arts, such as Karate and Jujitsu. Over the years Seikido has actively evolved to include techniques from other arts. This has helped the evolution of Seikido to become a "True Self Defense"
SEIKIDO Philosophy
The teaching stresses courtesy, self- control, perseverance and harmony. It will give you self confidence as well as strength and physical fitness. SEIKIDO is suitable for ages six to sixty, male and female.
It is the blending of the most modern and scientifically correct techniques derived from Tae Kwon Do and Aikido that makes Seikido unique. The founders built upon these foundation arts, both of which are considered the pinnacle of their respective styles, and developed techniques unique to Seikido.
Seikido attempts to build a strong sense of justice, fortitude, and humility, with its strict discipline, physical conditioning, and mental training. A proper mental attitude is necessary to separate the true practitioner from the sensationalist.  Qualities most respected in the Seikido practitioners are benevolence, politeness, honour, and loyalty.