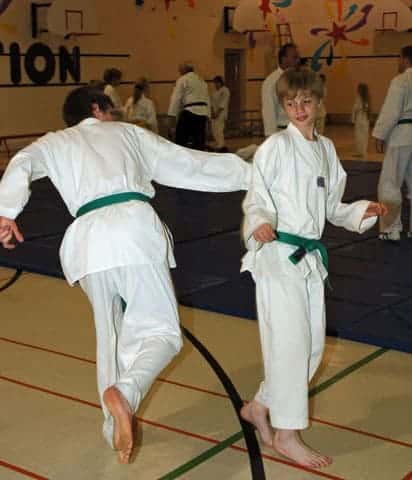 Our classes run 2 times per week on Tuesdays and Thursdays starting the second week of September and runs to the third week in June. This format allows families time to enjoy the summer months as well as giving our younger students to opportunity to enjoy summer time sports and recreation expanding their horizons.
We offer dedicated training for our Black Belts and Black Stripes on Monday nights as well as a new offering of Escrima and Bo classes on Monday night as well.
For our students who wish to continue their training during the summer months, Master Kristen and our other instructors hold a "Pattern in the Park" on Thursday nights weather depending. Please see our Ryoku Seikido Group page for more details.
We offer a dedicated class for our Black Belts ,assistant Instructors and Black Stripes on Mondays to allow for more specific training at their level.
Our Children and Family class allows for busy families to come and experience the Martial Art Journey together. 
Our curriculum is taught to all ages which allows the family an opportunity to progress together. The highlight of this style of training and interaction between all ages fosters one of our primary training goals which is to affect our techniques without using force.
Our children gain the benefit of working with other children, teens and adults which helps them with their level of confidence and self-esteem.
Our teens and adults also gain benefit as they learn to affect techniques on all sizes of students from children to adults as well as being role models for the children which fosters their enhanced learning abilities.
We currently are offering classes from 6pm to 7 pm for ages 6 -8 year old's, and from 7pm to 8 pm for ages 9-12 year old's.
Our Teen and Adult class combines everything that is taught in the Children and Family class but at a higher intensity level.
We offer our classes for Teens and Adults from 8pm to 9 pm.
We have a very dedicated group of Black Belt Martial Artists within the Ryoku Family.
Many donate their time to assist Master Wilkins in instructing all our students. As such we have dedicated Monday nights as well as classes on Tuesday and Thursday to their specific development needs.
Their training consists of the material required for their next Dan level, specific instruction techniques and methodologies and enhanced training in Aikido based techniques and most recently the introduction of Boxing training offered by Mr Kieran O'Halloran.
All of the training provided is based on their personal journey to further enhance their skills in Martial Arts and providing them more diverse training to not only give them the right tools in self-defence but also to foster their ability to continue the growth of Seikido.
We have a new training offering in Escrima and Bo's for new students who would just like to do this training to our existing students who would like something new.
This training is conducted by Sensei Neal Ruseff who has extensive training in these tools.
He along with the other black belts offer this training on Monday nights from 7:30pm to 8:30 pm.
For more information on class times or pricing for this training please contact us by using the contact card on this page.